Performance appraisals are tricky. I came across this nice article (#zine) from Julia Evans summarizing the list of things that you would need to discuss in your 1:1's (performance appraisal) to make it effective. It is a very useful list that you can take along for almost all your discussions either it be your performance appraisal or weekly checkpoints with your managers. I wanted to capture this here to spread this to a larger group and for future reference.
I grouped them into three groups for you, (1) You share your details and provide updates (2) Ask for details that need (3) Work collaboratively to layout the future plan.
📤 Update
1️⃣ What's been going well for you?
2️⃣ What's not going well for you?
3️⃣ Provide feedback
🙋🏼‍♂️ Ask
1️⃣ What are the team priorities?
2️⃣ Ask for opportunities
3️⃣ Ask for feedback
4️⃣ Ask for resources
🤝 Collaborate
1️⃣ Career planning
2️⃣ Brainstorm
Follow Julia Evans on Twitter https://twitter.com/b0rk and visit https://wizardzines.com for more like this.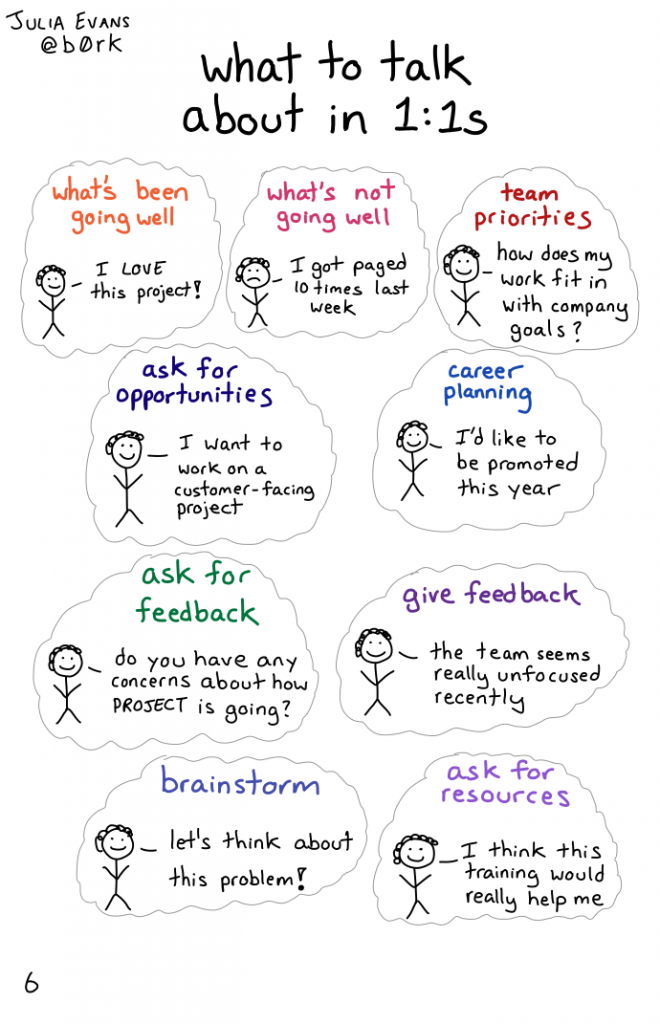 Read more about my random thoughts here.
What do you think about the importance of getting out of your comfort zone? Leave your comments here or on Twitter @testingchief.